A judge's favorite punishment for drunken drivers—ignition-interlock.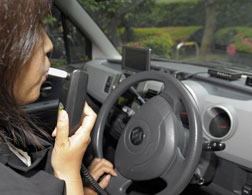 Driving home from work after a long day at the courthouse, I was hit by a drunken driver. He destroyed my car and left me with bruises, a hairline fracture of the spine, and terrified about the thought of getting back on the road again. This man who wreaked havoc in my life received a fine, kept his driver's license, and was sentenced to serve a few weekends in jail. This was in November 1984.
When I returned to my job as a California trial judge eight weeks later, I had a far different perspective on the crime of drunken driving. While the system that we had in place to deal with drunken drivers might have been efficient, with cases and punishments quickly dispatched, it did nothing to make our roads safer.