The Supreme Court decides that the women of Wal-Mart can't have their day in court.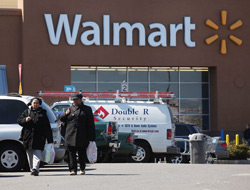 Today the Supreme Court decided what may well be the most consequential case of the current term,
Wal-Mart v. Dukes
, a sweeping class action suit filed almost 10 years ago that has yet to be litigated on its merits. Filed on behalf of the more than 1.5 million women who have worked at Wal-Mart since 1998, the suit alleges that the company favored men over women in decisions about pay and promotion in violation of Title VII of the Civil Rights Act. Today, the Supreme Court told them all to go home.
Writing for the court's five conservatives—and all but one of its men—Justice Antonin Scalia found that the women seeking to be certified as a single class did not have enough in common to go forward with the lawsuit en masse.
Wal-Mart, the nation's largest private employer, seems to have figured out that the key to low-cost discrimination lies in discriminating on a massive scale.
In Scalia's words, all these disparate women with their multiple claims about "millions of employment decisions" lacked sufficient "glue" to be permitted to move forward together.
Read on...